Unlock Your Inner Potential: 14 Powerful Examples of Self-Reflection
Self-reflection is an invaluable skill that allows us to reassess our lives, embrace personal growth, and fine-tune our decision-making abilities. In today's fast-paced world, it can be challenging to find the time and space for introspection.
That's why we've compiled a list of 14 ways and examples to help you tap into the power of self-reflection more efficiently. From journaling to seeking feedback from others, these practical methods will reshape your everyday life while offering valuable insights into your motivations, habits, strengths, and weaknesses.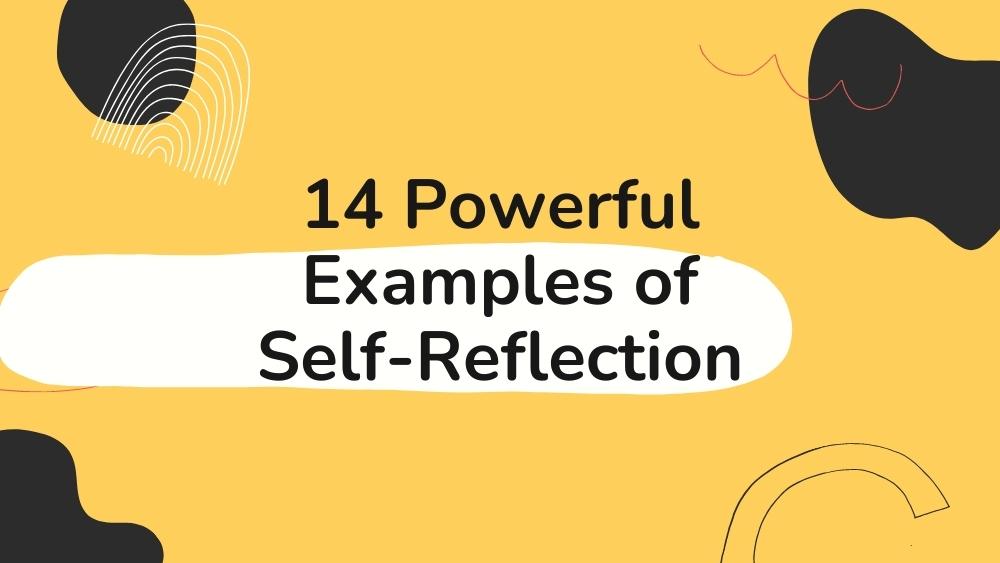 14 Examples Of Self-Reflection You Can Do Right Now
The article covers 14 effective ways to practice self-reflection:
1. Journaling
One incredibly effective way to practice self-reflection is through journaling. As someone who wants to improve themselves, you may find that putting your thoughts and feelings onto paper can provide a sense of clarity and perspective that's difficult to achieve in everyday life.
For example, let's say you've had a rough day at work filled with meetings and tight deadlines. Instead of letting the stress build up inside or venting aimlessly at home later on, try sitting down for 15 minutes with your journal before bedtime.
Write about what went well today, what kind of obstacles you faced along the way as well as any new ideas or lessons learned from them. You'll not only release some tension but also gain valuable insights into yourself, which will help in making better decisions in the future.
Self-reflection allows us to look back on past experiences or decisions made and apply them to the future.
2. Practicing Gratitude
Practicing gratitude is a powerful method of self-reflection that can help you cultivate a positive mindset and appreciate the small things in life. By acknowledging and expressing thankfulness for the good aspects of your everyday life, you're able to shift your focus away from negative thoughts and better understand what truly matters to you.
Start by setting aside some time each day, maybe as part of your morning or bedtime routine, to jot down at least three things you are grateful for.
The act of expressing gratitude not only helps put our own circumstances into perspective but also encourages empathy towards others who may share common ground with us. This increased sense of compassion ultimately leads to improved mental health and stronger relationships with those around us.
Engaging in regular self-reflection through practicing gratitude enables personal growth by allowing us to recognize our values and priorities more clearly – paving the way for more intentional decision-making in all aspects of our lives.
3. Seeking Feedback From Others
One of the most effective ways to practice self-reflection is by seeking feedback from others. It can be intimidating, but honest input from people around you helps reveal blind spots that might be holding you back in your personal or professional life.
Approach them with an open mind and ask for any constructive criticism they have on how you can improve yourself in everyday life situations or even in your career. Remember to genuinely listen without being defensive; their perspective may help identify areas where improvement is needed so that you can grow into your best possible self.
As an example, perhaps after reflecting on some feedback received from colleagues about communication skills during meetings, you decide to enroll in public speaking courses to boost confidence and improve overall effectiveness as a speaker.
4. Analyzing Motivations And Behaviors
Analyzing our motivations and behaviors is an essential aspect of self-reflection. Understanding why we act in certain ways can help us improve ourselves and become more self-aware.
Additionally, tracking our behavior patterns can also provide insight into our motivations. For example, if we realize that we tend to procrastinate when it comes to a particular task, we can reflect on the reasons behind this behavior and work on strategies to overcome it.
By analyzing both our positive and negative behaviors, we can gain a better understanding of who we are and what drives us.
5. Practicing Mindfulness
One of the best ways to improve self-reflection is by practicing mindfulness. Mindfulness is about being present in the moment, and aware of your surroundings and emotions without judgment.
By becoming more mindful, you can better understand yourself and how you react to certain situations. To practice mindfulness, start by taking a deep breath and focusing on your breath.
Notice any thoughts that come up but don't judge them – simply acknowledge them and let them pass by.
By practicing mindfulness regularly, you'll find that you become more attuned to your emotions and thoughts throughout everyday life. This will allow you to be more reflective on your responses in different situations, as well as help reduce stress and anxiety levels over time.
6. Asking Thought-Provoking Questions
As we go through life, it's important to take the time to ask ourselves thought-provoking questions. These questions can help us gain a deeper understanding of our values, beliefs, and motivations.
Some examples of thought-provoking questions include "What do I really want out of life?", "What are my biggest strengths and weaknesses?", and "Am I living up to my full potential?".
By asking yourself these types of questions regularly, you'll be able to reflect on your answers and use them as a guide for personal growth and development.
7. Reflecting On Past Experiences
Reflecting on past experiences is an incredibly powerful way to learn from the past and make more informed decisions in the future.
One effective way to reflect on past experiences is through journaling. Writing down your thoughts and feelings about a particular situation or event can help you process your emotions and gain clarity on what you could have done differently.
Additionally, taking some time to think deeply about why things happened the way they did can provide valuable insight into your own motivations and decision-making processes.
8. Practicing Self-Care
Taking care of oneself is an essential part of self-reflection. It's important to prioritize yourself and your needs to better understand your emotions and behaviors.
Incorporating self-care into everyday life helps build resilience, reduces stress, and enhances well-being. It's crucial to recognize when you need self-care and how it will benefit you in the long run.
9. Recognizing Strengths And Weaknesses
One of the most important aspects of self-reflection is recognizing your strengths and weaknesses. Being able to identify what you excel at and where you may need improvement is crucial for personal growth and development.
Take some time to reflect on your skills, qualities, and traits that set you apart from others.
For instance, I have always been good at keeping my focus on my work; however, I struggle with procrastination. Recognizing these strengths and weaknesses has helped me leverage my skills while working on improving my shortcomings continually.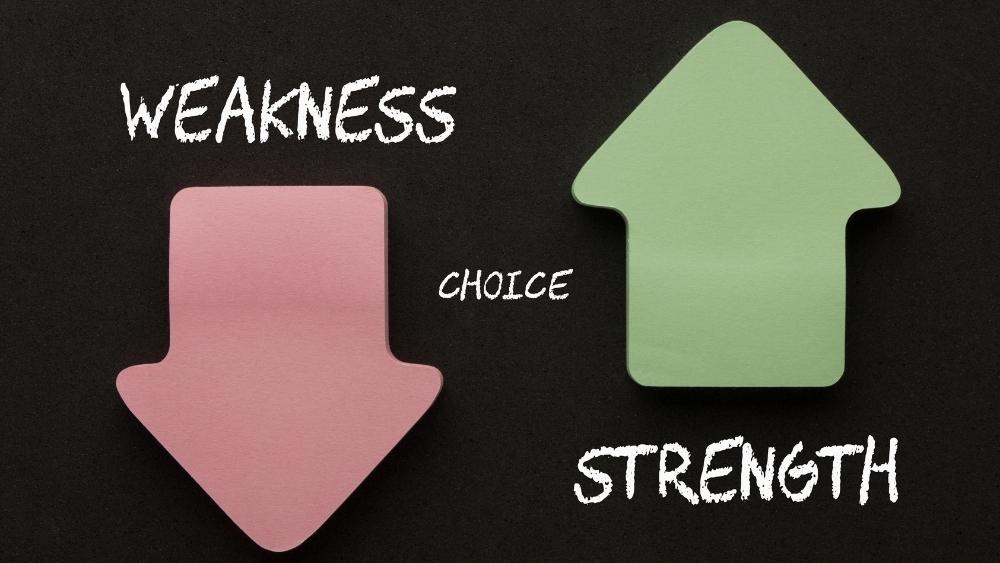 By focusing on our strengths while actively striving to improve in areas we are not so strong in, we can foster personal growth exponentially over time.
10. Learning From Failure
One of the most important things to remember about failure is that it's not the end of the world. In fact, it can be one of our greatest teachers if we let it. Reflecting on our failures can help us learn from our mistakes and make better decisions in the future.
It's also helpful to reframe how we think about failure. Instead of seeing it as a negative reflection on ourselves, we should view it as an opportunity for growth and learning.
For example, Thomas Edison famously said, "I have not failed. I've just found 10,000 ways that won't work." By adopting a similar mindset, we can approach failure with more resilience and optimism.
Reflecting is not about dwelling on negative things, it's about reflecting on successes and failures.
11. Setting Goals And Reflecting On Progress
One of the most important things you can do to improve yourself is to set goals and reflect on your progress. Whether it's a personal or professional goal, taking the time to assess how far you've come and what steps you need to take next can be incredibly beneficial.
When setting goals, make sure they are specific, measurable, achievable, relevant, and time-bound (SMART). For example, if your goal is to exercise more often, set a specific number of days per week that you will work out for at least 30 minutes.
Once you have your goals in place, schedule regular check-ins with yourself to reflect on your progress. This could mean tracking your progress in a journal or discussing it with someone else who can provide feedback.
Celebrate when you hit milestones along the way but also acknowledge areas where there may be room for improvement.
12. Taking Responsibility For Mistakes
One of the key components of self-reflection is taking responsibility for mistakes. It's important to acknowledge when we've made a mistake and take ownership of it rather than placing blame on others or making excuses.
This not only helps us learn from our errors but also fosters trust in ourselves and others.
For example, I recently made an error in my work that caused some issues for my team. Instead of blaming someone else or ignoring the problem, I took responsibility for my mistake and worked with my team to find a solution.
Through this experience, I learned valuable lessons about communication and attention to detail that will benefit me in the future.
13. Considering Different Perspectives
One important aspect of self-reflection is considering different perspectives. It's easy to get caught up in our own beliefs and opinions, but taking the time to understand and appreciate other points of view can broaden our understanding and improve relationships with others.
For example, if you're having a conflict with someone at work or in your personal life, try putting yourself in their shoes and seeing the situation from their perspective.
You might gain new insights into their motivations or concerns that you hadn't considered before.
14. Focusing On Personal Growth
For me, self-reflection is not just about looking back at past experiences but also focusing on personal growth. When I take the time to reflect on my actions and behaviors, I'm better equipped to identify areas where I can improve and set goals for myself.
One exercise that has been particularly helpful in my personal growth journey is setting SMART goals. By making sure they're Specific, Measurable, Achievable, Relevant, and Time-bound, I'm able to create a clear roadmap for how I want to grow and build actionable steps toward that goal.
Another key aspect of focusing on personal growth is being open-minded and willing to learn from others. Seeking feedback from trusted sources can provide invaluable insights into areas where we may need improvement or guidance toward change.
Tips For Effective Self Reflection
To make the most out of your self-reflection journey, it is important to dedicate time regularly, be honest with yourself, and focus on personal growth.
Dedicate Time Regularly
Dedicating time regularly for self-reflection is essential and one of the most significant steps to improve oneself. Make it a habit to take deep breaths, meditate or simply sit in silence and reflect on your thoughts and emotions.
Set aside some quiet time every day, even if it's just for 10 minutes; use this time to reflect on what's been happening in your life, how you're feeling about it, and what you can do differently moving forward.
Additionally, try dedicating more extensive periods every week or month to reflecting on significant aspects of your life, such as career growth or personal development goals.
This will help maintain consistency in reflective practices and ensure that you don't fall back into old habits.
Be Honest With Yourself
One of the most important things to keep in mind when practicing self-reflection is honesty. It's easy to shy away from uncomfortable truths or make excuses for our actions, but true growth comes from acknowledging our mistakes and shortcomings.
As you reflect on your life, career, or relationships, ask yourself tough questions about your values and priorities. Are you living up to your own expectations? What could you be doing differently? Don't be afraid to confront the reality of situations that may not have gone as planned – this will help you learn from them moving forward.
Focus On Personal Growth
When it comes to self-reflection, focusing on personal growth is essential. This means examining your values, qualities, and habits with the purpose of developing yourself into a better version of who you are today.
As you reflect on your experiences and choices, ask yourself what lessons you have learned and how you can use those lessons to grow. For instance, maybe there was a time when you made a decision that didn't align with your values or goals.
One way to focus on personal growth through self-reflection is by setting specific goals for yourself. These could be related to any aspect of life, such as career development or mental health improvement.
When creating these goals, remember to consider your current situation and circumstances but also aim for progress in areas where you want to grow personally or professionally.
Create A Consistent Routine
As someone who wants to improve themselves, creating a consistent routine for self-reflection is crucial. It's important to set aside dedicated time each day or week to reflect on your thoughts, behaviors, and actions.
By doing this regularly, you'll be able to identify patterns in your behavior and emotions that may need improvement or change.
For example, you might decide to spend 10 minutes every evening jotting down reflections in a journal or taking a few deep breaths and reflecting on the events of the day before going to sleep.
Over time, this practice will become a habit that feels natural and helps you stay aware of your own thought processes and feelings throughout the day.
Benefits Of Self Reflection
Self-reflection has numerous benefits, including increased self-awareness, personal growth and development, better decision-making, and improved problem-solving skills.
Increased Self-Awareness
One of the main benefits of practicing self-reflection is an increased sense of self-awareness. By taking the time to reflect on our thoughts, feelings, and actions, we can gain a better understanding of ourselves and how we interact with the world around us.
For example, through journaling or reflection exercises like asking oneself thought-provoking questions, we can begin to uncover subconscious beliefs or biases that may be impacting our daily lives.
Recognizing these patterns and working to change them can lead to personal growth and development, as well as improved relationships with others.
Personal Growth And Development
One of the most significant benefits of practicing self-reflection is unlocking personal growth and development. Through introspection, you can identify areas where you need improvement and work towards becoming a better version of yourself.
Self-reflection allows you to gain insight into your strengths, weaknesses, values, and beliefs. With this newfound awareness comes the opportunity to make positive changes in your life that align with your goals and aspirations.
For example, suppose you realize through self-reflection that you struggle with time management skills or prioritizing tasks effectively at work or school. In that case, You can take steps toward improving these areas by seeking out additional resources like helpful books on productivity or learning new strategies from others who have similar challenges.
Better Decision Making
When you practice self-reflection, you gain a deeper understanding of your values, emotions, and motivations. This clarity can help you make better decisions in various aspects of life.
For example, after taking time to reflect on a recent job offer, I discovered that while it would have provided financial stability, it did not align with my long-term career goals or personal values.
This realization allowed me to turn down the offer without regret or second-guessing.
Improved Problem-Solving Skills
When practicing self-reflection, one of the benefits is improved problem-solving skills. By reflecting on past experiences and analyzing what worked and what didn't, we can identify patterns and develop better strategies for solving challenges in the future.
Through this reflection process, we can learn from our mistakes and apply that knowledge to similar situations in the future. As a result, we become more adept at identifying potential roadblocks and finding creative solutions to overcome them.
With regular self-reflection practice comes an increased ability to approach problems with a clear mind and positive attitude while considering different perspectives.
FAQs:
1. What is self-reflection, and why is it important?
Self-reflection is the act of analyzing one's thoughts, emotions, and behaviors to gain a better understanding of oneself. It can help increase self-awareness, identify strengths and weaknesses, improve decision-making skills, and enhance personal growth.
2. How can I start practicing self-reflection?
There are many different ways to practice self-reflection, including journaling, meditation, talking with a therapist or trusted friend, setting aside quiet time for introspection, or doing creative activities such as drawing or painting.
3. Can self-reflection help me achieve my goals?
Yes! Self-reflection allows you to assess your progress toward your goals by identifying what actions have worked well for you in the past and what areas may need improvement moving forward. It also helps you stay focused on your priorities and maintain motivation throughout the process.
4. What are some benefits of regular self-reflection?
Regularly practicing self-reflection can lead to increased clarity about one's values and beliefs, improved communication skills with others through greater emotional intelligence & empathy levels, and higher levels of creativity thanks to directly related feedback loops between mind & body systems within us all – which will boost productivity at work while reducing stress due decreased tension/anxiety over unprocessed problems/issues/etc that typically cloud thinking processes involved here too!
Conclusion
Self-reflection is an essential practice that helps us grow and develop in our personal and professional lives. By dedicating time regularly to reflect on our thoughts, emotions, and behaviors, we can gain valuable insights into who we are and what we want to achieve.
These 14 examples of self-reflection provided in this article offer a variety of tools to help you get started with your introspective journey. Remember to be honest with yourself, focus on personal growth, create a consistent routine, and take deep breaths when needed.
I wish you the best! Fabian.
Share with your Friends: