How To Discipline Yourself: A 10-Step Guide to Self-Control
Do you ever find yourself struggling to focus? Do you have difficulty motivating or staying on task when given a project or goal? If so, then learning how to discipline yourself is essential for success. You're in luck – disciplining oneself doesn't have to be a discouraging journey.
With the right tips, tricks, and techniques, anyone can learn this important skill set and stay productive. Read on to gain valuable insight into the methods of self-discipline that can help unlock your potential! So, let us start with how to discipline yourself!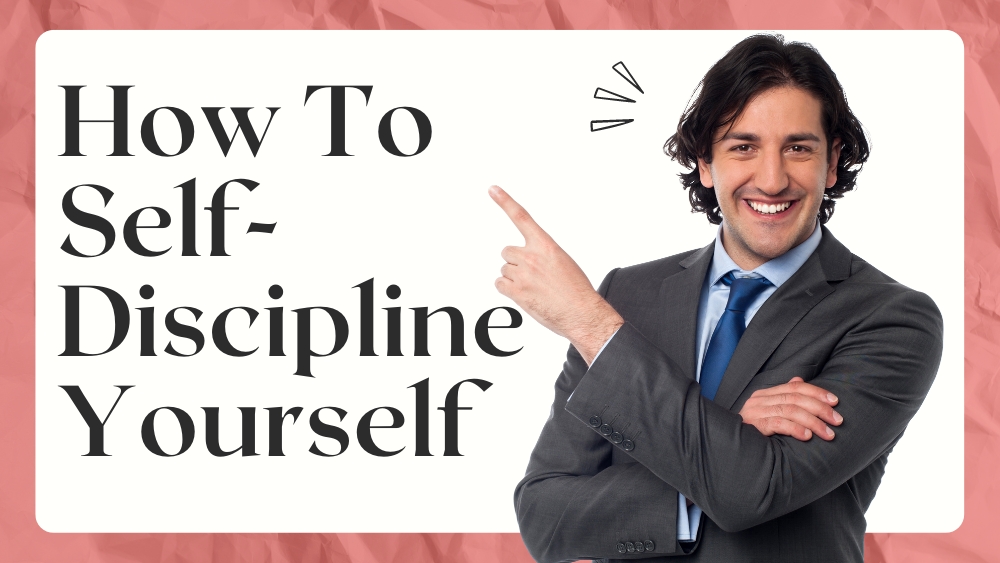 What is Self-Discipline?
Self-discipline controls behavior, emotions, and decisions to reach a desired goal or outcome. It requires you to act according to your will rather than succumbing to temptation.
Self-discipline involves delaying gratification, making sacrifices, and acting toward what you want to achieve despite feeling resistance or discomfort.
How to Discipline Yourself
Developing self-discipline is essential for reaching your goals and leading a successful life. Here are some tips on how to develop more self-discipline:
1. Set clear, SMART goals:
First and foremost, you must have a clear vision of what you want to achieve. Then, create goals that are Specific, Measurable, Achievable, Relevant, and Time-bound.
SMART goals are a widely-used method for setting practical, well-defined objectives. The acronym SMART stands for:
Specific: A clear, concise, and well-defined goal, leaving no room for ambiguity. When setting a specific goal, answer the five "W" questions: Who, What, Where, When, and Why.
Measurable: A goal that can be quantified or assessed using specific criteria. This lets you track your progress and know when you've achieved the goal. To make a goal measurable, identify the indicators or milestones you'll use to measure success.
Achievable: A goal that is realistic and attainable, given your current resources, skills, and time constraints. While setting challenging goals is important, they should still be within reach to avoid frustration and maintain motivation.
Relevant: A goal that aligns with your broader objectives, values, and priorities. It should be worthwhile and contribute to your overall growth or success. Consider whether the goal is helpful at this point in time and if it is the right fit for you.
Time-bound: A goal that has a clear deadline or timeframe for completion. This creates a sense of urgency and helps you stay focused and accountable. Setting a specific timeline for your goal will help you prioritize your actions and monitor your progress.
By setting SMART goals, you can create a clear roadmap for success and increase your chances of achieving your objectives.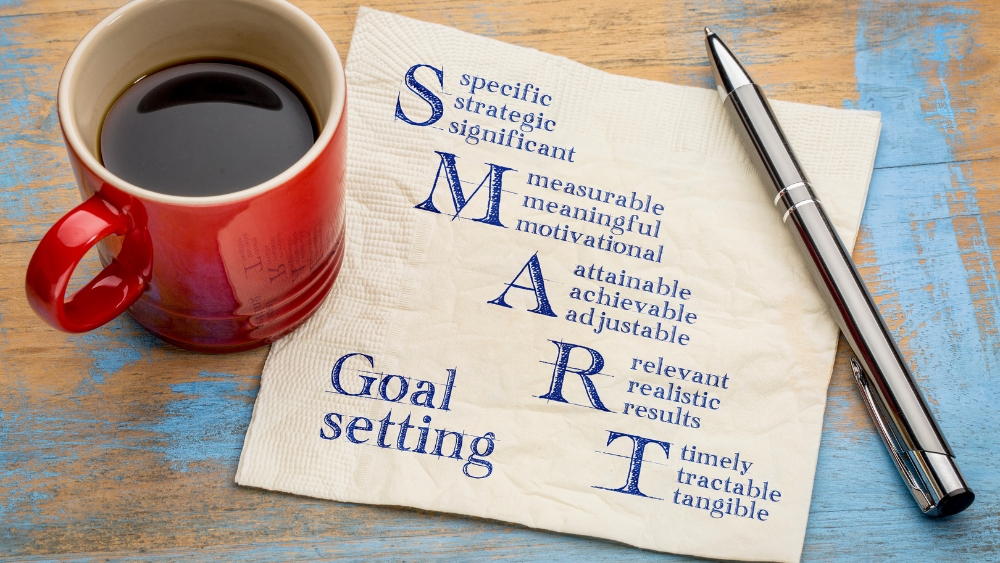 Spend some quiet time reflecting on what truly matters to you, and then write these goals down. Visualize yourself achieving them and feel the sense of accomplishment that comes with it.
2. Break goals into smaller tasks:
Rome wasn't built in a day, and neither will your dreams. Break your goals down into smaller, more manageable tasks. Take one step at a time and celebrate each small victory along the way. This makes your goals less overwhelming and helps build momentum as you see progress.
3. Prioritize tasks:
Once you've broken down your goals, it's time to prioritize. Determine which tasks are most important and tackle them first. Allocate time each day or week for these tasks, and be sure to focus on them without distraction. Remember, the key is to do what matters most first.
4. Make a plan and stick to it:
When you make a plan, it gives you a clear road map for how to reach your goals. Sticking to the plan can help build self-discipline by forcing you to stay on track and follow through with tasks to reach the end goal.
Write down your plan, make a promise to yourself, and keep that promise.
5. Create a routine:
Consistency is crucial in developing self-discipline. Establish a daily routine that includes dedicated time for work, personal growth, and relaxation. Stick to this routine as much as possible, and soon it will become a habit – something that you do without even thinking about it.
6. Stay focused on your goals:
To truly discipline yourself, you must be in control of your actions and decisions. Identify your weaknesses and triggers, and take actionable steps to minimize their impact. For example, if you struggle with procrastination, remove
7. Be consistent:
Cultivating self-discipline is a journey, and it won't happen overnight. Be patient with yourself, and remember that progress is often slow and steady. Keep pushing forward, even when things get tough, or setbacks occur. Your persistence will pay off in the end.
8. Take breaks:
Regular breaks from work or studying can help refresh your mind and keep you motivated. This will give you the energy and focus to stay disciplined in completing tasks.
9. Reward yourself:
When you achieve milestones along your journey, celebrate your success! Treat yourself to something special, or take a moment to reflect on how far you've come. Acknowledging your achievements will keep you motivated and reinforce your self-discipline.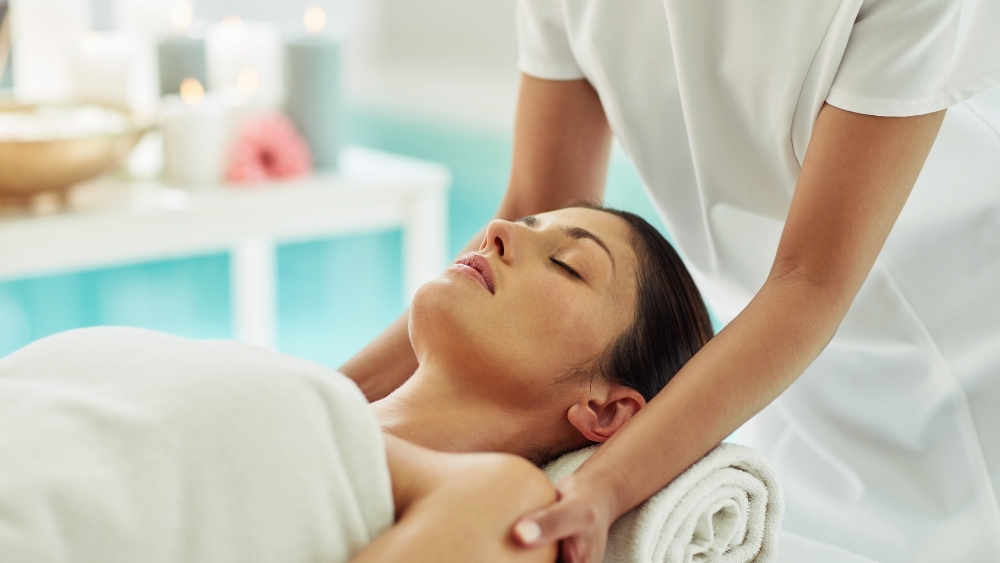 10. Hold yourself accountable:
Keep track of your progress and hold yourself responsible for your actions. If you slip up, acknowledge it, learn from it, and move on. Don't be too hard on yourself – remember that self-discipline is a process that takes time and effort.
Surround yourself with supportive people who can help hold you accountable and encourage you to stay on track.
Benefits of Being More Self-Disciplined
Self-discipline is a crucial life skill. Staying focused and motivated can help you achieve important goals, make progress in your career, build strong relationships, and create a more satisfying life. The benefits of self-disciplined behavior include:
Increased Productivity
One of the most notable benefits of self-discipline is increased productivity. By honing your ability to focus on the task at hand and avoiding distractions, you can complete tasks more efficiently and effectively.
Self-discipline also helps you to prioritize your responsibilities and manage your time better, ultimately leading to higher productivity levels.
Enhanced Focus and Concentration
Self-discipline aids in sharpening your focus and concentration. When you train yourself to stay disciplined, you become more adept at eliminating distractions and maintaining your attention on what truly matters.
This heightened focus is beneficial in both personal and professional settings, as it allows you to stay committed to your goals and achieve them faster.
Better Decision-Making
Self-discipline plays a significant role in improving your decision-making abilities. When you possess self-discipline, you're more likely to make rational, informed decisions rather than being swayed by impulses or emotions. This results in better judgment and a decreased likelihood of making costly mistakes.
Improved Stress Management
A disciplined life often equates to a well-structured and organized one. When you have control over your daily routine and habits, you can manage your stress levels more effectively. By allocating time for work, relaxation, and personal pursuits, self-discipline allows you to strike a healthy balance, reducing stress and fostering mental well-being.
Greater Resilience in the Face of Adversity
Life is full of challenges and setbacks, but self-discipline helps you develop the mental fortitude to persevere. When you're disciplined, you're more likely to view obstacles as opportunities for growth rather than insurmountable barriers. This mindset empowers you to tackle difficulties head-on and bounce back from adversity with greater ease.
Healthier Habits
Self-discipline is the cornerstone of cultivating healthier habits. When you possess self-discipline, you're more likely to make conscious choices about your diet, exercise, and sleep routines. By consistently making healthier choices, you can improve your overall well-being, prevent illness, and maintain a higher quality of life.
Boosted Self-Esteem
Achieving goals and staying true to your commitments can significantly boost your self-esteem. As you become more self-disciplined and witness the positive impact on your life, you gain confidence in your abilities to overcome challenges and achieve your aspirations. This increased self-esteem serves as a powerful motivator to continue pursuing personal growth and success.
Higher Likelihood of Achieving Personal and Professional Goals
Self-discipline is instrumental in realizing your personal and professional goals. By staying committed and focused, you increase your chances of achieving what you set out to do. This accomplishment not only provides a sense of satisfaction but also encourages you to continue setting and reaching new goals, ultimately leading to a more successful and fulfilling life.
Self-Discipline Examples
Self-discipline can take many forms and often depends on the individual. Some examples of self-discipline techniques include:
1. Setting a strict schedule: Schedules help you to stay organized and focused, so it's important to set one that works for you. Mark out specific blocks dedicated to specific tasks throughout your day and try to stick to them as closely as possible.
2. Breaking down large projects: Big goals can be intimidating and easy to procrastinate, so breaking them down into smaller tasks helps you stay on track. Set mini-goals for yourself throughout the project and reward yourself when you complete them.
3. Staying focused: It's easy to get distracted in the digital age, but staying focused is important when working on important tasks. Turn off notifications, put your phone away, and don't multitask.
4. Holding yourself accountable: Write down your goals and review them regularly so you can measure how well you're doing. Reward yourself when you meet a goal and adjust your strategy if you need to reach them.
FAQ's
Why do I have no discipline?
Many people have struggled with having no discipline in their life. It can be frustrating and disheartening not to have any structure or organization in our lives. In my experience, no discipline comes from a lack of understanding of oneself.
We don't fully understand our strengths and weaknesses, and it's hard to make commitments when we are unsure of our own capabilities. Creating structure and implementing small changes every day can help to get that much-needed sense of discipline back into our lives.
How do you fix poor discipline?
Improving your self-discipline can be a difficult process, but it is possible. Start by setting achievable goals and breaking them down into smaller tasks. Make sure to reward yourself for completing each task, and take time to relax or get enough sleep to stay motivated. Additionally, try to minimize distractions and focus on one task at a time.
Finally, care for your physical and mental health by eating well, exercising regularly, and getting enough rest. By following these tips, you can improve your self-discipline over time.
Why is self-control so difficult?
Self-control is often difficult because it requires making decisions and taking actions that go against our natural impulses. Many people need help delaying gratification to achieve greater long-term rewards, as this requires hard work and dedication.
Additionally, social media or television distractions can make it even more difficult to stick to self-discipline goals. To help make self-control easier, it's important to identify the factors making it difficult and take steps to minimize them.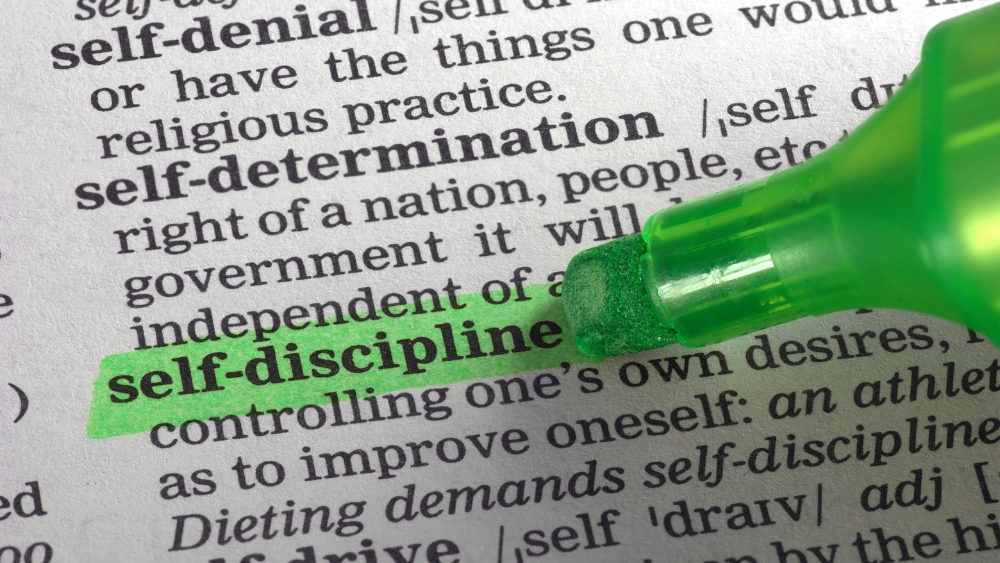 How do I go from lazy to disciplined?
Transitioning from being lazy to being disciplined can be challenging, but it is possible. Start by setting realistic goals and breaking them down into smaller tasks. Additionally, reward yourself for completing each task, and take time to relax or get enough sleep to stay motivated.
Why did I lose my self-discipline?
Self-discipline is an essential trait that can often be difficult to achieve. Many things, such as stress and external distractions like social media or TV, may hinder our ability to set goals – but don't let them stop you!
Take a look within yourself: identify what's causing the lack of discipline and make positive changes so that you are able to stay focused on your dreams and reach those goals with ease.
Is self-discipline a skill?
Yes, self-discipline is a skill that can be developed over time. Improving your self-discipline skills may feel like a daunting task, but with the right strategy, it's totally doable! Start by setting achievable goals and break them down into manageable components.
Boost motivation levels along the way by rewarding progress – both big and small – to keep you inspired on this journey toward better impulse control.
What is the dark side of self-discipline?
The dark side of self-discipline can refer to an excessive focus on self-control and a lack of flexibility in following rules or systems.
Rigidity, inflexibility, and an unwillingness to compromise can have a detrimental effect on our lives by preventing us from adapting to new situations or connecting with others. It can also lead to rigid perfectionism, which leads many of us down the path of self-criticism or criticism toward those around us. The key is finding that perfect balance between discipline and empathy.
How do you develop self-discipline?
Developing self-discipline is an integral part of achieving the life you want. It helps us to stay focused and motivated in the face of adversity and setbacks. To begin developing self-discipline, start by setting realistic goals that are challenging but achievable.
Creating a schedule and holding yourself accountable can help you stick to these goals and observe your progress over time. It also requires looking inward at yourself – really understanding why you do what you do, allowing yourself to make mistakes, and being honest with yourself about what it is that's going to give you the discipline for success.
Unlock your true potential by embracing self-discipline, setting achievable goals, and holding yourself accountable on the journey to success.
Self-discipline takes practice, but by setting specific goals and sticking to them, you will strengthen your self-discipline abilities in both the short and long run.
Final Thoughts On How To Discipline Yourself
Having self-discipline is a vital part of achieving any goal. It takes dedication, courage, and commitment to make decisions that may not be in line with our normal reactions or feelings but will bring us closer to success!
We can also bolster our efforts by taking care of ourselves mentally and physically – this helps keep motivation levels high as we take steps toward reaching our goals. However, it's important not to get stuck on the idea of strict control over oneself; being mindful lets us find the balance so that when setbacks come along, they don't derail us completely.
With practice comes mastery – you have everything within yourself needed for successful self-discipline!
I wish you the best! Fabian.
Share with your Friends: