82 Practical Long-Term Goals Examples for a Fulfilling Life
Are you looking to make a lasting impact on your life and embark on an amazing journey of self-improvement? If so, then this comprehensive list with 82 long-term goals examples is exactly what you need!
Long-term goals are all about setting yourself up for success and pushing yourself to become the best version of yourself. With clear and specific goals in mind, it's easy to stay motivated on your journey toward achieving your long-term goals.
I want to provide you with the tools that will help empower your transformation into something extraordinary.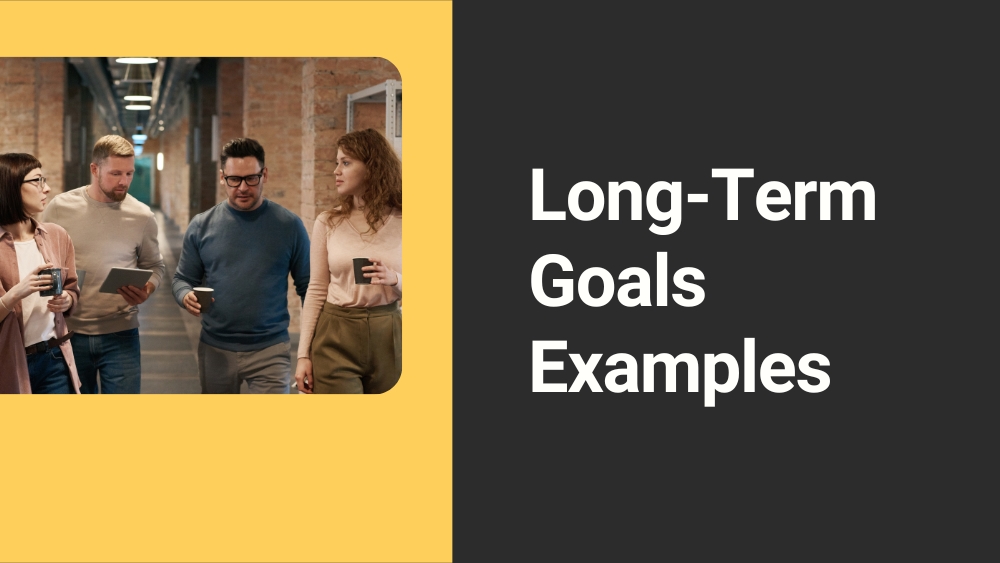 This blog post offers an array of inspiring long-term goals examples and ideas that have been broken down into categories; health, financial freedom and security, personal development, career growth and relationships.
Let's get started with this comprehensive blog post with 82 long-term goals examples!
What Are Long-Term Goals?
Long-term goals are desired outcomes that a person or organization intends to achieve over a significant period of time, typically several years or more.
Long-term goals provide motivation, focus, and clarity to individuals or organizations, so they know how to prioritize their actions. Whether it's related to personal growth, career development, financial stability, or any other area of life – setting long-term targets is essential if you want sustained improvement over several years.
Importance of Setting Long-Term Goals
Setting long-term goals is an important part of personal and professional growth. Long-term goals provide a clear path to the future, helping us stay motivated and focused on our desired outcomes. Here are a few reasons why long-term goals are important:
Direction: A clear destination in mind allows for more effective decisions and resource allocation. Long-term goals help guide your strategy, providing focus to drive you toward success. By setting objectives that align with where you want to go, it's easier than ever before to make choices based on achieving those desired outcomes.
Motivation: Setting achievable and sustainable long-term goals is the key to staying motivated. Setting such objectives helps individuals and organizations remain dedicated, focused, and determined to pursue successful outcomes.
Purpose: Long-term goals can be invaluable in helping to craft a sense of purpose and meaning. They assist us by continuously reminding us what is most valuable, allowing for a focused effort toward achieving our dreams.
Planning: Planning is an essential part of reaching long-term goals; it enables individuals and organizations to take a strategic approach, allowing them to stay ahead of the curve. Through proper planning, you can proactively prepare for success in achieving your objectives!
Measures Progress: Long-term goals ensure that individuals and organizations make lasting progress by providing a way to evaluate their successes. Measuring performance over time helps identify areas of improvement while also allowing yourself to celebrate when your objectives have been achieved!
Fosters Resilience: Resilience is a key factor in successfully managing both individual and organizational goals. With an unwavering commitment to the long-term perspective, you can stay focused on what matters most during difficult or setbacks, ensuring your objectives are achieved despite any challenges that may arise.
So, with everything clearly defined, let's dive into these examples of long-term goals!
Long-Term Goal Examples
Setting long-term goals is an essential way to plan for your future and ensure success in whatever area you are striving for. Everyone should have at least one goal which they can work towards on a daily basis.
After all, if you aim high and work hard, you will achieve great things. No matter the type of goal set, having a clear vision coupled with hard work and dedication will help you reach whatever it is you are driving for! Here are some long-term goals examples:
Long-Term Personal Goals Examples
Personal goals are very broad. They can range from physical health to mental health, to traveling, learning new skills, relationships, and much more. These are all types of goals that improve your personal life and, ultimately, the life of your life partner.
Here are specific examples of long-term personal goals for your amazing future self:
Learn a new foreign language fluently.
Achieve and maintain a healthy weight through exercise and a healthy diet.
Develop a regular meditation or mindfulness practice.
Read a certain number of books per year on a specific topic.
Complete a marathon or half-marathon.
Volunteer at a local charity or non-profit organization.
Travel to a new destination every year.
Learn a new musical instrument or take up singing.
Write and publish a book or start a blog.
Attend a cooking school or take cooking classes to master a specific cuisine.
Achieve a specific fitness goals, such as doing 100 push-ups or running a mile in under 7 minutes.
Learn to code or develop an app.
Develop a daily writing habit, such as journaling or writing a gratitude list.
Learn a new hobby or new skill, such as woodworking, painting, or knitting.
Attend a spiritual or personal growth retreat.
Participate in a long-distance cycling race or climb a mountain.
Spend more time with loved ones and build deeper relationships.
Write and publish a collection of poetry.
Spend a month or more volunteering abroad to give back to the global community.
Learn a new form of dance, such as salsa or ballet.
Complete a triathlon or Ironman competition.
Hike a marked trail or mountain range, such as the Appalachian Trail or Mount Kilimanjaro.
Become proficient in a new art form, such as painting or sculpture.
Take a road trip across the country, visiting national parks and historical sites.
Develop a consistent meditation practice to improve mental health.
Attend a music festival or concert each year.
Learn to scuba dive and explore coral reefs and shipwrecks.
Visit and learn about cultures and traditions of other countries.
Participate in a public speaking course to improve your public speaking skills.
Create a bucket list of experiences and check off at least one item yearly.
Take a photography course and learn to take professional-grade photographs.
Take up gardening and learn to cultivate and grow fruits and vegetables.
Develop a consistent sleep routine to improve overall health and wellness.
Learn to surf or stand-up paddleboard and ride ocean waves.
Develop a consistent yoga practice to improve flexibility and mindfulness.
Create and maintain a daily gratitude list to cultivate a positive mindset.
Learn to draw or paint with watercolors and create an art collection.
Join a local theater group and participate in a production.
Learn to bake bread, pastries, or desserts and become proficient.
Create a successful podcast and share knowledge and insights with the world.
Build a strong and supportive community of friends and family.
Let's continue with example of long-term goals in your business and career.
Long-Term Career Goals Examples
Regarding your career path, having long-term goals can be key to staying motivated and feeling rewarded in your professional life, whether it's in your own business, in a leadership position, or in your dream job.
An effective way of achieving success over the long term in your career plan is to identify your unique core values that you want to express through your work and look for a role that aligns with them.
When you are in a position that genuinely excites you, each day can become an opportunity for progress and growth – which is ultimately what we all strive for in our careers!
Think big and don't put limits on yourself – after all, nothing short of excellence should be the rule when it comes to setting ambitious long-term career goals. So, what are long-term career goals examples? I have here some long-term goals examples to set as your own goals:
Build and run your own successful business.
Develop a new innovative product that revolutionizes your industry.
Become a recognized industry expert and thought leader.
Create a successful startup that gets acquired by a larger company.
Develop a new technology that changes the way people live and work.
Build a personal brand and become a sought-after speaker.
Become a successful author of books related to your field.
Develop a strong professional network of contacts and collaborators.
Win industry awards and recognition for your work.
Build a strong online presence and social media following.
Develop and deliver training and educational programs.
Build a successful career in academia and become a professor.
Become a successful investment banker.
Create a website that offers a unique service or product.
Develop a video game for a specific platform or audience.
Get a master's degree in a field of interest.
Improve your skills in your current job through training and development programs.
Build a reputation for being a reliable and trustworthy employee.
Take on new responsibilities and projects to help you learn and grow in your current role.
Build a portfolio of your work that showcases your skills and accomplishments.
Building a strong relationship with your supervisor and seeking opportunities for growth and advancement within your current company.
Let's continue with example of long-term goals in your financial world.
Long-Term Financial Goals Examples
Setting long-term financial goals can have a significant impact on not only your bank account but also your overall quality of life. Envisioning yourself in the future and creating a plan to get there is powerful, no matter how uncertain the future may seem.
A good practice to help you reach your desired destinations is creating smaller milestones and progressing toward them while remaining focused on the big picture: having enough money and enjoying your status of being financially independent.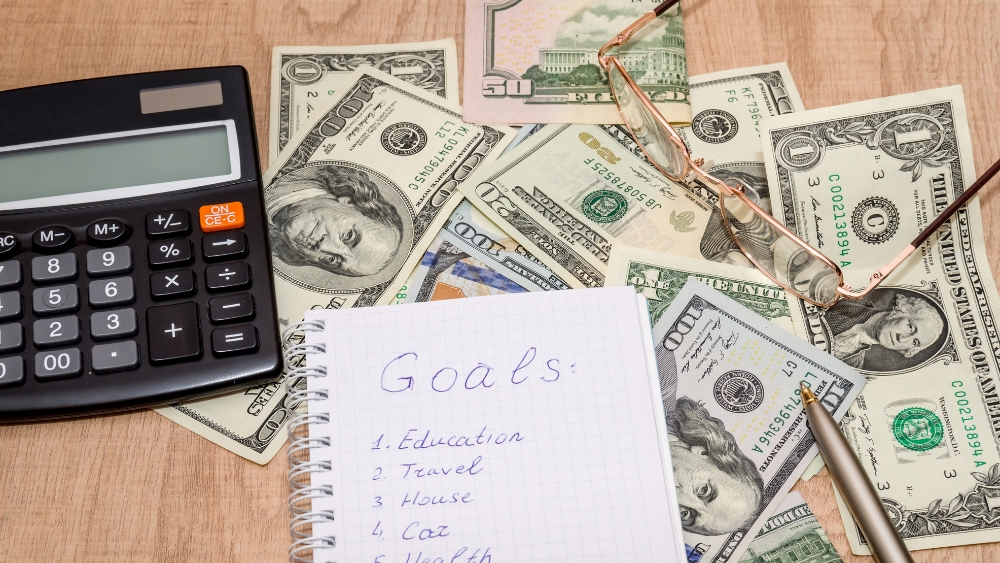 Start with forming the habit of setting aside a portion of your income each month into savings and reinvesting it into activities that will eventually bring you closer to achieving your long-term financial goals. Here are some examples of long-term financial goals:
Build an emergency fund to cover unexpected expenses.
Pay off all debts, including credit cards, loans, and mortgages.
Save for a down payment on a home.
Pay off your mortgage and own your home outright.
Save for your child's education.
Save for retirement.
Invest in stocks, bonds, or mutual funds to grow your wealth.
Build a diversified investment portfolio to minimize risk.
Maximize contributions to your 401(k) or other retirement savings plan.
Create a budget and stick to it.
Create a plan to reduce your expenses, such as cutting back on discretionary spending.
Invest in real estate and generate passive income through rental properties.
Invest in a business venture that has the potential for high returns.
Save for a large purchase, such as a car or vacation.
Contribute to a Health Savings Account (HSA) to cover future medical expenses.
Build an emergency fund that covers six months of living expenses.
Develop multiple passive income streams through blogging or podcasting.
Save for a new car or other major purchase in cash.
Create a plan to retire early and live off passive income streams.
Building a rainy-day fund to cover unexpected expenses.
How to Achieve Your Long-Term Goals
There are four simple steps for achieving long-term goals. The goal-setting process is fairly simple. These are the steps you need to do with every long-term goals you set:
Define clear, measurable, and time-bound goals to help track progress.
Break down goals into smaller tasks and prioritize them.
Define concrete action steps for each task.
Track and review progress regularly with tools or processes.
To set long-term goals, you have to:
Define Clear, Measurable Goals
A goal without a plan is just a wish. To achieve your long-term goals, you need to define clear and measurable objectives. A good long-term goal should meet the following criteria:
Your set long-term goals should be specific and articulate exactly what you want to accomplish.
Your set long-term goals should be achievable with realistic steps and action items.
Your set long-term goals should have a defined timeline for completion.
Your set long-term goals should be measurable so you can track your progress as you go.
To start collecting long-term goals ideas, you could also do a vision board for your goal-setting process or start by asking goal-setting questions to become a sense of everything you want to accomplish.
Break Your Goals Into Smaller Steps
Once you have clearly outlined your long-term goals, it's time to break them down into smaller tasks and prioritize them.
Start by asking yourself: What are the main objectives I need to accomplish to reach my long-term goals? What tasks do I need to complete to reach these objectives? Put each task on a timeline, including milestones and deadlines.
Break your long-term goals into smaller manageable short-term goals. These short-term goals help you achieve your big, major life goals.
Define Action Steps
For each short-term goal on your list, create an action plan to help you achieve it. Action plans should include measurable objectives, timelines, and resources needed to complete your short-term goals.
Every short-term goal brings you one step closer to your ultimate long-term goal.
Track Your Progress
Finally, it's important to track your progress from your long-term goals and short-term goals regularly. This helps you stay on course and motivated as you work towards achieving your long-term goals.
Use tools such as goal-tracking apps or spreadsheets to help keep track of your task list, deadlines, and progress. This step is important for your goal setting.
It's never too late to start working toward your long-term goals. By defining your goals, breaking them down into smaller steps, and creating a plan of action, you increase your chances of success. Use the tips in this guide to get started on the path to reaching your goals.
SMART Goals
SMART stands for Specific, Measurable, Attainable, Relevant, and Time-bound. This is an acronym to help you set effective, achievable goals. You can use the SMART approach for your long-term goal or your short-term goal. SMART goals stand for: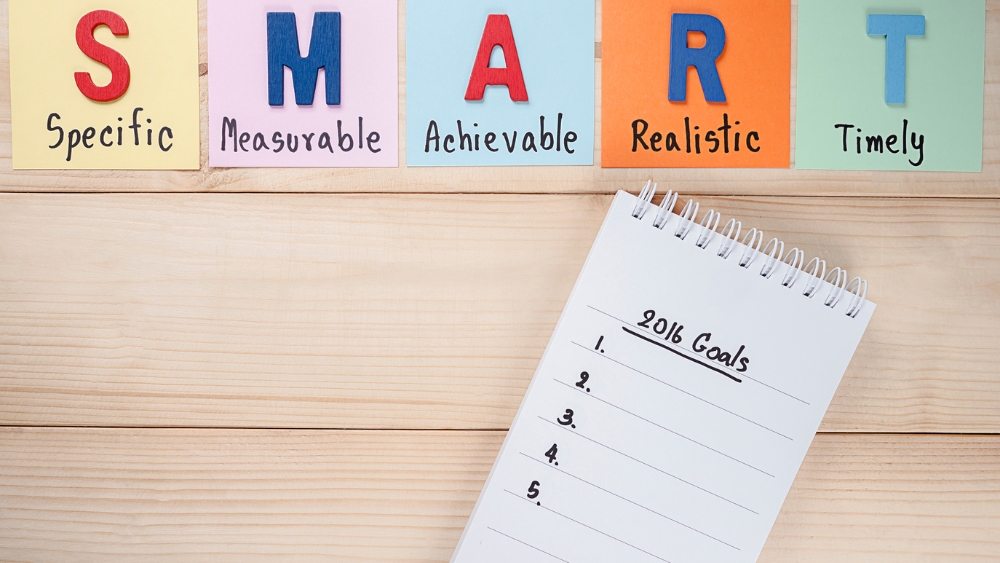 Specific – Clearly defined and focused on one outcome.
Measurable – Quantifiable with a timeline for completion.
Attainable – Realistic with action steps outlined to reach the goal.
Relevant – Meaningful and aligned with your values and purpose.
Time-bound – With deadlines or milestones to keep you on track.
By setting SMART goals, you increase your chances of achieving them by providing yourself with clear direction and measurable progress markers along the way.
Start today your goal setting process by creating a list of long-term goals and begin breaking them down into smaller, actionable tasks and set realistic timelines.
How To Prioritize Goals
Setting and achieving goals is a great way to reach new levels of success in life. But with so many different things that you want to accomplish, it can be hard to figure out what you should prioritize first in your long-term goals.
The best way to do this is to break each goal down into its most important components, then prioritize these elements according to what matters the most to you. For example, if you have a long-term goal of improving your health, focus on the actions that will truly make a difference, such as eating healthy and exercising regularly.
This will help ensure that the most beneficial steps are taken first. In addition, working within this structure can help keep you motivated towards accomplishing your goals and reaching new heights!
Examples of Long-Term Goals Conclusion
There you have it, a comprehensive list full of ideas and examples of long-term goals. Remember that goals should be specific, measurable, attainable, relevant, and time-bound. Break them down into smaller tasks, prioritize them, and create an action plan to help you complete them step by step.
Finally, track your progress regularly to keep motivated as you work towards achieving your long-term goals.
Take your time and find worthy long-term goals to pursue. With the right attitude and preparation, you can reach whatever heights you set your sights on! Get inspired by these long-term goals examples and start today and start living the life you desire!
Wish you the best! Fabian
Share with your Friends: