Priorities in Life: Finding Balance and Fulfillment
Setting priorities is one of many people's most important yet challenging tasks. Everyone has dreams and aspirations, but finding that delicate balance between achieving them and staying focused on work or daily life cannot be easy.
When you set too many responsibilities or goals that are too ambitious or unrealistic, you may feel overwhelmed by how much you have to do and struggle to succeed in any area of your life.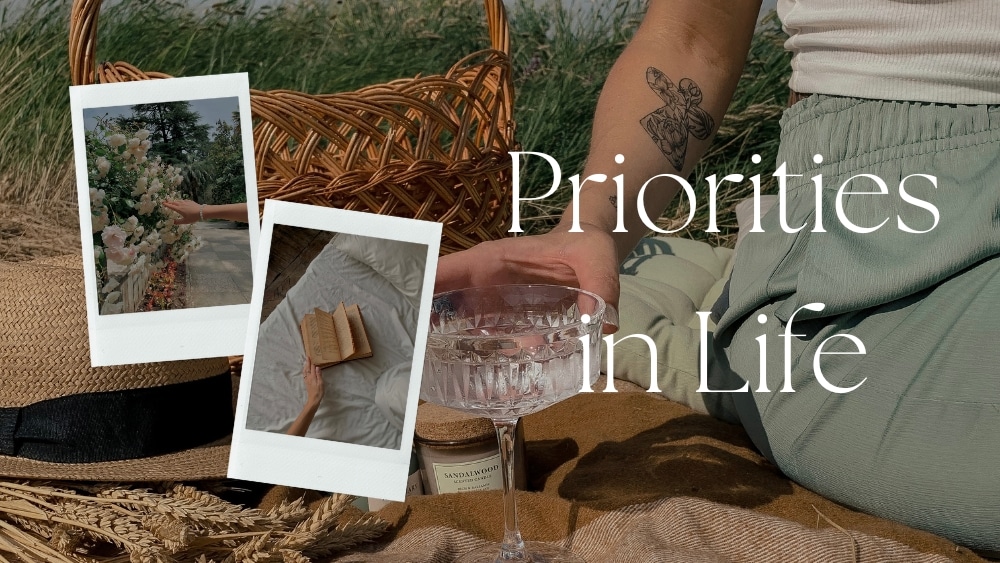 Knowing how to establish meaningful priorities can help bring order and focus into our lives to address what's truly important first while progressing toward long-term objectives. In this blog post, we'll discuss why setting top priorities in life is essential and some practical tips on prioritizing to make the most of your time!
How To Set Priorities In Life?
Here are 10 ways how to set priorities in life:
1. Identify what matters most to you in life.
Life is full of uncertainties, and to make sense of it all, I believe in focusing on the few important things in a happy life that truly matter to me. My faith, family, and friends are at the top of my list, as they have been there with me through thick and thin. Although life inevitably brings challenges, I am comforted knowing I have a support system to carry me through.
Another important thing to me is having self-esteem and respect for myself and treating those around me with kindness and generosity. Finally, I aim to cultivate wisdom and knowledge, leading to personal growth and deepening relationships. What matters most to me is finding a healthy balance between these core values while adapting what brings meaning during this ever-evolving journey we call life.
2. Determine necessary over non-necessary tasks.
In today's busy world, getting through all our daily tasks can often seem impossible. To ensure we don't feel overwhelmed, it is important to identify which tasks are necessary and which can be let go of. Essential duties can only be skipped with consequences or jobs that keep us on track with our goals in life.
These include a 9-5 job, fixing the car repair from last week, paying bills on time, or attending an important meeting. Non-necessary tasks don't bring much value to our lives or help us reach our goals.
These might be checking social media pages too often, skipping meals because there needs to be more time, spending too much money at the store, or saying yes to every task given to you when you have zero extra energy.
Identifying and differentiating between what needs to be done and what doesn't is an important skill that will help make your life easier and less stressful.
3. Be willing to compromise.
Sometimes, the most difficult part of setting priorities is deciding between two (or more) tasks that require your attention. In this case, it is important to be willing to compromise and prioritize based on which will bring you closer to your goals in life.
When there are tasks that can't easily be ranked by importance, such as going to the gym or studying for an upcoming exam, it is important to figure out which activity needs the most attention. In this case, it might mean cutting back on some of your social media time and dedicating that extra hour to the task at hand.
Learning how to compromise can help you stay focused and prioritize efficiently while ensuring that you are getting the most out of your time.
4. Assess your most productive days of the week.
The key to setting priorities is knowing when you can get the most out of your day. For some people, this might be on a Monday morning, while for others, it could be a Saturday afternoon. Identifying which days of the week you are most productive can help you prioritize tasks that require more energy and focus during those times and move less crucial tasks to other days.
This can help you stay focused on what needs to get done and prevent burnout from trying to accomplish too much quickly.
Finally, it is important to remember that setting priorities isn't about focusing all your energy on one task at the expense of others. It's about creating balance in your life that allows you to be productive and efficient and still enjoy the things that bring you joy. With a little effort and intentionality, it is possible to prioritize efficiently and progress toward your goals.
5. Tackle the hardest task first.
One of the most effective ways to prioritize tasks is to tackle the hardest task first. This approach can help you get a head start and feel motivated about working towards your goals. It might be difficult at first, but once you have accomplished the toughest task, everything else will feel like less of a challenge in comparison.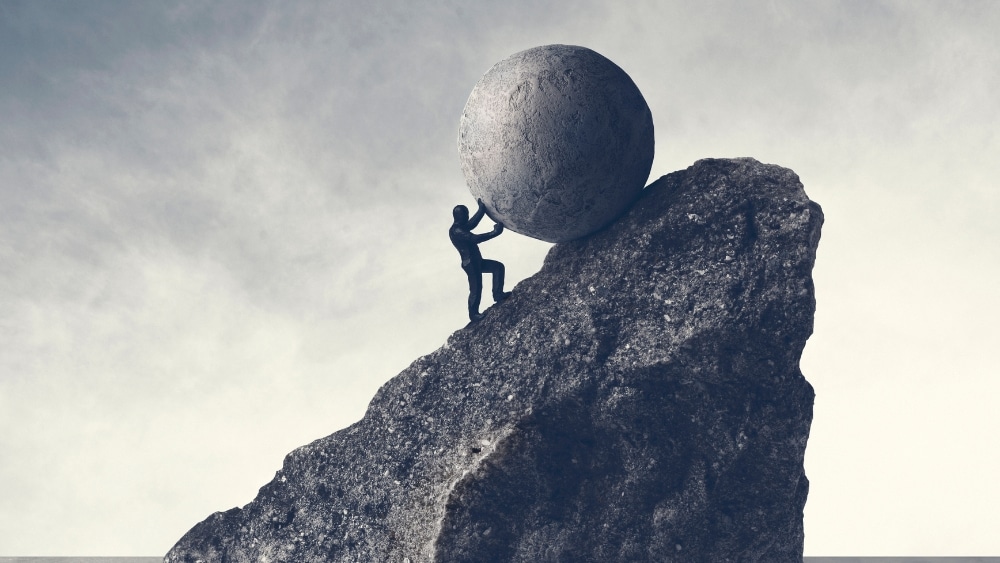 Making sure that the most difficult tasks are done first will help you focus on what needs to be accomplished and work towards success in all areas of your life.
Establishing meaningful priorities can make a huge difference in achieving our goals and living a balanced life. Taking the time to determine necessary over non-necessary tasks, being willing to compromise, assessing our most productive days of the week, and tackling the hardest task first can help us work smarter, not harder, to reach our goals while still making time for ourselves.
With practice and consistency, you will soon find yourself being more organized and efficient in your tasks and better equipped to handle any life challenge that comes your way.
6. Break down your goals into tangible steps.
Achieving goals more fulfilling life requires commitment and consistency. One of the best ways to stay motivated is to break down big goals into smaller, manageable chunks. This makes it easier to schedule these steps into your day without feeling mentally and physically well-being overwhelmed by the whole endeavor.
When tackling long-term poor health goals, list each task you must complete for them and assign a timeline for each. Then, create habits that help you stay consistent with those timelines and stay on track with progress. Evaluating your progress regularly helps motivate you, and these healthy habits can keep you focused on the long-term outcome of your goal!
7. List tasks that need to be done and prioritize them.
To be successful and accomplish all of our goals, it is important to know how to prioritize tasks before spending time. Start by listing any jobs you need to complete and organize them based on importance. Consider the time each task will take and the consequences if left undone. Rank the tasks from most important to least important.
This way, you can determine which tasks should receive your attention first and be a priority and completed promptly while still allowing yourself time for other tasks defined priorities that might not have quite so pressing of a timeline. Creating such a list increases our chances of completing our desired goals exponentially.
8. Schedule a regular time for yourself each day to reflect on your progress.
Taking time each day to reflect on your progress can be incredibly helpful in helping you focus your energy, your money, and your efforts where they can do their best. Taking just a few moments to pause and assess how and where you are investing your effort will help you recognize and learn from successes and detect any areas that need more attention, self-improvement, or adaptation.
It also has healthy relationships and allows the person around you to celebrate the small victories towards a greater goal. Furthermore, this daily practice helps keep you focused on your priorities and provides a sense of accomplishment for reaching your objectives.
9. Set personal boundaries and stick to them
Setting and maintaining personal boundaries is important to managing your time, life priorities, psychological stress, and goals. It's easy to get overwhelmed when we feel like everyone else is pulling us in different directions.
So it's important to remember that you don't have to do everything! Setting limits for yourself will help ensure that you can focus on the tasks in enjoyable life that are most important and meaningful to the world around you.
If someone is trying to pressure you into taking on more than what is realistic, don't be afraid to decline and explain why politely. This will help others understand your boundaries and show respect for your limits. Being honest about how much time and energy you can commit to a task will help you focus on your goals.
10. Practice mindfulness
Regardless of stress and how hard we try to keep our goals on track, it's important to take a step back and appreciate the moment. Mindfulness helps us tune into our surroundings and be present here and now.
It can help center our thoughts and reinvigorate our ambition to stay focused on our goals. Taking time to be in the moment and appreciate the beauty of life can help us stay motivated and give us a greater sense of purpose, self-confidence, and happiness.
So take some time each day to practice mindfulness, reconnect with yourself, and enjoy life and your aspirations – it will help you stay focused on the bigger picture!
FAQs:
1. How can I stay organized and motivated while working towards my goals?
Staying organized and motivated while working towards your goals can be difficult, but it is attainable. Creating lists of tasks and prioritizing them, scheduling regular time for reflection, setting personal boundaries, and practicing mindfulness are all strategies that can help keep you organized and motivated.
Additionally, making sure to prioritize your physical health and mental health, as well as setting aside time for self-care, will also help you stay focused and make progress on your goals.
2. What should I do if I feel overwhelmed with my tasks?
It's ok to feel overwhelmed by your tasks from time to time. An effective way to combat feeling overwhelmed is to take a step back, prioritize your homework, and focus on one task at a time.
Setting realistic expectations for yourself and breaking larger projects into smaller pieces can also help you stay organized and motivated. If the overwhelm persists, consider speaking with a professional or taking time off to practice self-care.
3. How can I ensure that my goals stay a top priority?
Making your goals a top priority is an important part of achieving success. To ensure your goals remain a top priority, it's essential to create lists of tasks and prioritize them so that you focus your energy on the most important items first.
Additionally, eliminating distractions and setting aside regular reflection time help ensure your goals remain a priority.
4. What other strategies should I consider when setting and accomplishing my goals?
Many strategies can help set you up for success. Establishing clearly defined priorities, practicing self-discipline, and respecting your limits are important.
Mindfulness can help center your thoughts, appreciate the present moment, and reinvigorate your ambition.
5. What should I do if I feel like giving up?
Reaching our goals can often be challenging, and it's ok to feel discouraged when things are unplanned. When this happens, taking some time for yourself and practicing self-care is important.
Speaking with a friend or mentor can provide clarity of thought and perspective on the situation.
6. How can I stay motivated while working towards my goals?
Focusing on the progress you make and celebrating small wins can help keep you motivated. Setting realistic and achievable goals, breaking larger projects into smaller pieces, and eliminating distractions are effective strategies. Practicing mindfulness, taking regular breaks, and prioritizing physical and mental health are important steps for staying motivated.
Conclusion
Accomplishing goals is no easy feat, but the right mindset of staying organized and motivated can set us up for success!
Embrace the journey to a balanced and fulfilling life by setting meaningful priorities, breaking down goals into tangible steps, and practicing mindfulness, while staying organized and motivated to achieve success.
Breaking down tasks into lists, prioritizing them appropriately, and carving out time for reflection is essential to creating a solid action plan. Fostering mindfulness helps keep it all in check so that we get closer to our desired outcome efficiently with minimal stress.
I wish you the best! Fabian.
Share with your Friends: