Do you have dreams and ambitions that seem just beyond your reach? If so, don't give up! Sure, it might feel like there are too many barriers standing in the way of what you want to achieve.
Unrealistic goals can be a major obstacle to achieving our dreams and ambitions.
They can be so intense that we become overwhelmed and discouraged when we don't reach them. Unrealistic goals are often too far-reaching, too difficult, or too time-consuming.
But no goal is ever impossible if we focus on the right things – setting realistic goals and taking actionable steps toward our success. It's time to work smarter rather than harder. This is what we aim to explore in this article.
What Are Unrealistic Goals?
Unrealistic goals are goals that are too difficult or impossible to achieve within a reasonable time frame or with available resources.
An unrealistic goal is, for example, when we have unrealistically high expectations, like becoming a millionaire within a year without a specific plan. Unrealistic goals can also be vague goals or goals that are too broad.
Another unrealistic goal can be something we wish to achieve but is dependable on factors other than ourselves, like having a primary source of income through winning the lottery.
What is the Most Likely Consequence of Setting Unrealistic Goals?
Unrealistic goals can be a major obstacle to achieving our dreams and ambitions. They can be so intense that we become overwhelmed and discouraged when we don't reach them.
Here is what could happen if we set goals that are unrealistic:
We become disappointed when we fail to meet unrealistic expectations
Our motivation decreases as it becomes more difficult to accomplish these seemingly unattainable objectives
We may start avoiding tasks altogether in fear of failing again
Unnecessary stress builds up due to constant worrying about reaching an unachievable goal
We could miss out on opportunities that could help us progress because they weren't part of our original plan
Difference Between Challenging and Unrealistic Goals
It's important to remember that there is a difference between challenging and unrealistic goals. Challenging goals require extra effort from you and stretch your limits. They may be difficult to achieve, but they're still attainable goals and are not impossible. Unrealistic goals, on the other hand, are those that are too far-reaching or unattainable.
For example, a challenging goal might be to double your income within the next year. On the other hand, an unrealistic goal would be to earn a million dollars in the same time frame without an appropriate plan. A realistic goal setting greatly improves our mental health.
Setting unrealistic goals often sets us up for failure since they may be beyond our capacity, leading to an unmet expectation or, worse yet, even discouragement.
Let's look at some more unrealistic goal examples.
Examples of Unrealistic Goals
Most of the time, unrealistic goals are only unrealistic because of the given time frame or because other factors, on which you have no influence, are required to achieve this goal.
Here are some examples of unrealistic goals because there is too less time to achieve them:
Writing a novel in a week.
Completing a college degree in one semester.
Learning a complex musical instrument in a month.
Running a marathon after only a few weeks of training.
Mastering a foreign language in a week.
Memorizing a whole textbook overnight.
Losing 50 pounds in a month.
Painting an entire house in a day.
Learning a new skill to a professional level in just a few days.
Here are some examples of unrealistic goals on which you have no influence to steer them:
Winning the lottery or other games of chance as a primary source of income.
Making someone fall in love with you.
Becoming a professional basketball player with only a 1-meter height.
Stopping the aging process or reversing the effects of time on the body
Preventing natural disasters from occurring, such as earthquakes or hurricanes
You get the idea. These are all goals that we cannot control. We have no influence on what happens here.
The good news is, for every other goal that we can actively control, no matter how challenging it may seem, we can achieve it.
How to Stop Setting Unrealistic Goals
You know by now why a goal is unrealistic and what's the difference between a challenging and an unrealistic goal. This is the first step to no longer setting goals that are unrealistic.
Additionally, you must understand your starting point or current reality to stop setting goals that are not attainable. Finally, you must be honest and realistic about what you can achieve in the given timeframe.
If you have no control over whether you can achieve your goal, I recommend you drop your plan and chase something else.
If you have given yourself too little time, make a new action plan. Break down your goal into achievable chunks and give your set goals realistic deadlines. Give yourself more time rather than stress yourself out by trying to achieve something in too little time.
Setting realistic goals and timelines is key to success. So, set realistic goals, better goals, and you will succeed on a personal level and in your business game.
How to Set Challenging but Achievable Goals?
Now that you know how to stop unrealistic goals, it's time to set yourself up for success instead of failure. Here are some tips for setting challenging but achievable goals:
Break down the goal into smaller, achievable parts: Breaking down a seemingly large and daunting goal into smaller, doable parts makes tracking progress more accessible and more motivating.
Set realistic deadlines: Give yourself manageable timelines for each small part and milestone. This will help you stay on target without feeling overwhelmed.
Work smarter, not harder: Focus on being effective, not just productive. Develop a plan and take actionable steps to bring you closer to success.
Celebrate your success: Recognize and reward yourself for each milestone achieved. It's a great way to stay motivated and on track.
Don't be afraid to adjust: If a certain timeline or plan isn't working, don't be afraid to adjust it. Sometimes, a little tweak can make all the difference.
Setting challenging but achievable goals is an important part of living a life of fulfillment and success.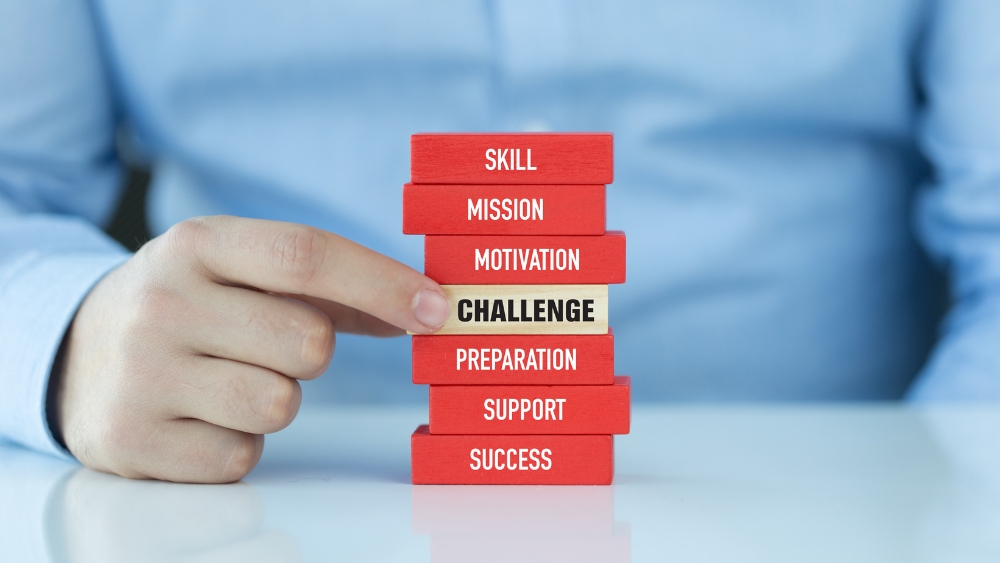 Realistic goals are incredibly important! They help you focus your attention on what's achievable and create a clear path toward success. Getting as specific as possible when setting goals will help you stay on track so that reaching your desired outcome is within reach.
Don't let uncertainty, fear, or doubt take over – by committing to realistic goals, you can be confident that whatever the challenge, you'll have the focus and determination to tackle it head-on!
Final Thoughts About Unrealistic Goals
It's only natural that, at times, the goals we set for ourselves will be unrealistic and too hard to achieve. But, with some practice, you can learn to recognize the difference and set yourself up for success.
We have to be honest with ourselves and adjust our course if necessary. That way, we can ensure our goals are achievable and bring us closer to our ultimate objectives.
However, it's only by setting challenging but achievable goals that we can achieve our dreams. So, don't be afraid to dream big and tackle the tough challenges! With a bit of planning and dedication, you can achieve anything!
Good luck chasing your dreams! Best, Fabian
Share with your Friends: