Digital vs Paper Journaling: The Ultimate Showdown
In today's fast-paced world, journaling has become a powerful tool for self-reflection and personal growth. With technology constantly evolving, the age-old debate of digital vs paper journaling is one that many continue to explore.
Both methods offer unique benefits and limitations in terms of convenience, creativity, privacy, sustainability, and more. In this blog post, we'll dive deep into the pros and cons of each approach to help you determine which method best suits your individual needs and preferences.
Understanding Digital And Paper Journaling
As someone who is interested in personal growth and development, it's essential to understand the differences between digital and paper journaling. Digital journaling refers to the practice of recording thoughts, feelings, experiences, or important notes on electronic devices using various applications or software.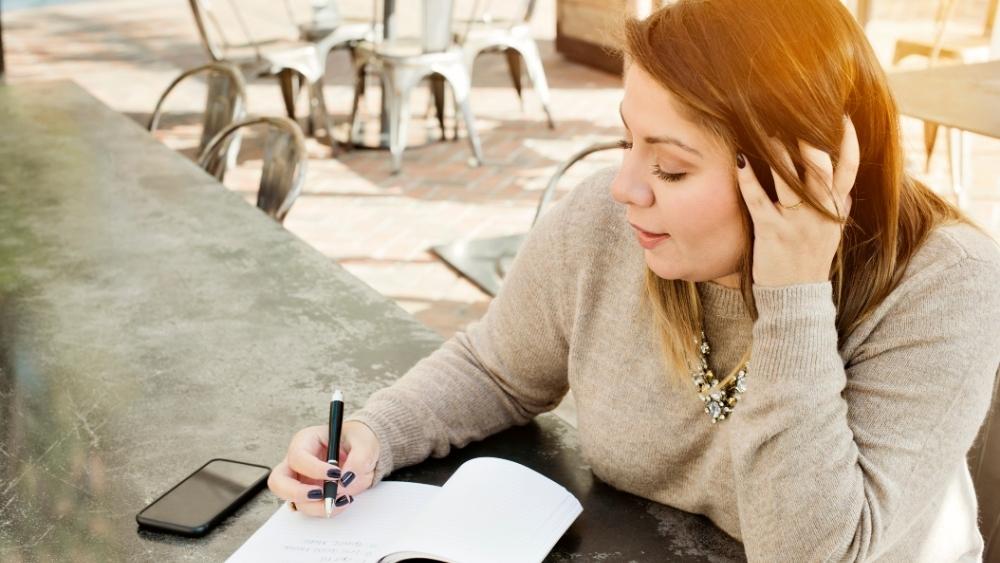 This method has gained popularity over time due to its convenience; you can access your entries from multiple devices at any location with an internet connection. Additionally, digital journaling allows for easy organization with search functions and customizable folders.
On the other hand, paper journaling remains a beloved choice among those who appreciate the tangibility and sensory experience of putting pen to paper in traditional notebooks or diaries.
Handwriting is often considered more personal than typing since it fosters creativity while enhancing memory retention through active engagement of fine motor skills throughout each stroke formation process.
Digital journaling offers convenience and easy organization, while paper journaling provides a tangible, personal experience that fosters creativity and enhances memory retention.
Pros And Cons Of Digital Journaling
Digital journaling offers convenience and portability, as well as organization and searchability. However, it also comes with the downsides of distraction and screen time.
Convenience And Portability
I love digital journaling because it's just so convenient. I can pull out my phone or laptop and jot down a quick note wherever I am, without worrying about carrying a physical notebook around with me.
Plus, with cloud storage and syncing, I never have to worry about losing my entries if something happens to my device.
However, paper journaling has its own charms when it comes to convenience and portability.
Ultimately, whether you prefer digital or paper journaling for convenience and portability depends on personal preference and lifestyle factors – but both methods offer unique benefits in terms of ease of use on the go!
Organization And Searchability
One of the key benefits of digital journaling is its ability to enhance organization and searchability. With a few clicks, you can easily locate specific entries or topics using keywords or tags.
This feature saves significant time and effort compared to flipping through pages in an analog journal, searching for specific information.
For example, I love using Evernote for my digital journaling because it offers powerful search capabilities that enable me to find past ideas quickly without wasting precious writing time.
Distraction And Screen Time
As much as digital journaling offers convenience and flexibility, it also comes with the downside of distraction and screen time. Sitting in front of a computer or mobile device for extended periods can be overwhelming and often lead to reduced productivity.
Furthermore, studies have suggested that the blue light emitted from electronic screens may cause eye strain, headaches, and disruption in sleep patterns, among other health issues.
Therefore, while there are many benefits to using technology for journaling purposes, it is essential to balance screen time with offline activities such as exercise and quality time spent away from devices.
Multimedia Content
Digital journaling offers a unique advantage when it comes to incorporating multimedia content. With the ability to insert photos, videos, and audio recordings directly into your digital entries, you can create a more comprehensive and immersive record of your experiences.
This feature is particularly useful for those who want to document their travels or creative projects in detail. For instance, I have a friend who uses her digital journal to keep track of her painting progress by including pictures of her artwork at various stages of completion.
She also records herself talking about what inspired each piece and reflects on how she feels about the final result.
Pros And Cons Of Paper Journaling
Paper journaling provides a tangible writing and drawing experience, allowing for creative expression and personalization; however, it can also be challenging to organize limited space.
Tangibility And Sensory Experience
One of the benefits of paper journaling is the tactile experience it provides. Holding a physical journal in your hands and feeling the texture of the pages can enhance sensory engagement and promote mindfulness.
Additionally, using a pen to write down thoughts and ideas can be satisfying for those who enjoy the act of writing by hand.
Moreover, some people find that they are able to express themselves more creatively on paper because they have more freedom with formatting and can doodle or draw alongside their writing.
The ability to use stickers, washi tape, or other decorative touches makes physical journals aesthetically pleasing for some individuals as well.
Creative Expression And Personalization
One of the biggest advantages of paper journaling is the freedom to express yourself creatively and make your journal truly personal. With a physical notebook, you can use different colored pens, highlighters, stickers, and even drawings or sketches to embellish your entries.
This is especially beneficial for those who enjoy bullet journaling or incorporating visual aids into their writing process.
On the other hand, digital journaling offers its own forms of creative expression and personalization. Many apps allow users to customize their interface with different themes or cover designs.
Regardless of whether you choose paper or digital journaling, taking time to decorate and personalize each page allows you to reflect on past experiences in a meaningful way while also honing creativity skills.
Paper journaling fosters tangible creativity and memory retention, while digital journaling offers convenience and easy organization for self-expression.
Mindfulness And Focus
One of the main advantages of paper journaling is its ability to help improve mindfulness and focus. When you sit down with a pen and paper, you are forced to slow down and be present in the moment as you write your thoughts.
This practice can lead to improved mental clarity, increased self-awareness, and reduced stress levels. Additionally, when using a physical journal, there is no temptation to check notifications or browse social media which often comes with digital devices.
On the other hand, digital journaling may provide helpful tools for increasing mindfulness and focus as well. Many apps offer customizable prompts or reminders that encourage users to reflect on their emotions throughout the day.
Some even allow you to set daily intentions or track habits related to self-care or personal growth.
Limited Space And Organization Challenges
When it comes to paper journaling, one of the main challenges is limited space. Traditional journals come with a finite number of pages, and once they're filled up, you'll need to start a new journal or buy more pages for your current one.
Organizational challenges are also common with paper journaling. It's easy for entries to become disorganized over time, making it difficult to find specific information when you need it.
However, there are ways around these issues.
On the other hand, digital journaling eliminates both of these issues completely. With electronic options like online platforms or apps, there's no limit on how much you can write or record because storage is virtually unlimited in this format.
Searching through previous entries becomes extremely simple since all entries are searchable by keyword or date.
Ultimately which type of journal works best depends on personal preferences and needs – whether digital or analog will better serve your goals. It is worth experimenting with both methods before deciding on your ideal approach.
Comparison Of Digital And Paper Journaling
When it comes to comparing digital and paper journaling, there are plenty of factors to consider – from environmental impact to creative expression.
Environmental Impact
As we become increasingly aware of our impact on the environment, it's important to consider how our habits and choices contribute to sustainability. When it comes to journaling, digital options are often touted as being more environmentally friendly because they don't require paper or ink.
However, it's important to note that the production and disposal of electronic devices can have a significant environmental impact. E-waste is a growing problem worldwide, with discarded electronics contributing to pollution and health hazards in many communities.
Ultimately, whether you choose analog or digital journaling methods will depend on your personal preferences and values.
Cost-effectiveness
When it comes to cost-effectiveness, digital journaling may look like the winner at first glance. After all, most of the popular journaling apps are either free or relatively low-cost compared to buying physical journals regularly.
However, switching from paper journals to digital ones requires investment in a device such as a tablet or smartphone if you don't already have one.
Moreover, with physical journaling, you have complete control over how many pages you fill each day whereas with digital journals, there's usually no limit if you opt for premium options that unlock more features or storage space can be more expensive than simply buying another notebook once your current one runs out of space.
Long-term Storage And Accessibility
As someone who frequently journals, both digitally and on paper, I've come to appreciate the differences in long-term storage and accessibility between the two methods. When it comes to digital journaling, backups, and cloud storage make it easy to protect your entries from loss or damage over time.
Plus, you can access them from anywhere with an internet connection.
On the other hand, traditional journaling offers a sense of permanence that's hard for digital media to match. With proper care, paper journals can last for decades or even centuries without any loss of quality or information.
Ultimately, whether you prioritize accessibility or longevity depends on your personal needs and preferences as a writer.
Potential For Hybrid Journaling
Personally, I find that combining digital and paper journaling works best for me. Hybrid journaling allows me to reap the benefits of both methods while minimizing their drawbacks.
For instance, I use a digital app to jot down quick notes or thoughts on-the-go, set reminders for important events or tasks, and easily search through past entries.
Hybrid journaling also enables me to better personalize my journals and express myself in different ways. For example, I often print out photos from my phone and glue them onto my paper notebook along with handwritten captions or stickers.
Similarly, sometimes I type up blog posts or articles on my computer first before transferring them into my journal as written paragraphs or bullet points.
Choosing The Right Journaling Method For You
Consider your personal preferences and habits, evaluate your journaling goals and intentions, experiment with both digital and paper methods, and try combining them for an effective journaling practice.
Consider Personal Preferences And Habits
As someone interested in personal growth and development, it's important to consider your own preferences and habits when choosing between digital and paper journaling. Here are some factors to consider:
Do you prefer the physical act of writing with a pen on paper, or do you find typing more convenient?
Are you more likely to stick with a consistent journaling habit if it's easily accessible on your computer or phone?
Do you enjoy the sensory experience of flipping through pages and seeing the progression of your handwriting, or do you value the organization and searchability features of digital journaling software?
How important is privacy to you? Digital journals offer password protection, while physical journals can be locked or hidden away.
Consider your budget as well – physical journals require ongoing purchases, while digital journaling apps may have subscription fees.
Keeping these factors in mind can help you choose the journaling method that best fits your personal needs and habits. Remember, there is no one "right" way to journal – it's all about finding what works for you and sticking with it consistently.
Evaluate Journaling Goals And Intentions
When determining whether to choose digital or paper journaling, it's important to evaluate your goals and intentions for journaling. Here are a few factors to consider:
Consider why you want to journal – Is it for self-reflection, gratitude, creativity or tracking goals?
Think about how frequently you plan to journal – Are you looking to write daily, weekly, or monthly?
Determine the level of privacy you require – Do you need your entries to be password-protected, or do they contain sensitive information?
Consider if you prefer handwriting or typing – Do you enjoy the process of physically writing on paper or do you prefer typing on a computer or phone?
Reflect on whether an organization is essential for you – Do you need an easy way to find and search previous entries?
By answering these questions, you can determine which type of journaling may be better suited for your personal preferences and needs. It's also important to keep in mind that experimenting with both methods may help identify what works best for you in achieving your journaling goals and intentions.
Experiment With Both Methods
To truly determine which journaling method is best for you, it's important to experiment with both digital and paper methods. Start by setting aside some time each day or week to try out different journaling techniques and see how they make you feel.
For example, you may find that typing on a computer allows for quick brainstorming and easy editing while also providing the ability to add multimedia like photos or voice memos.
Don't be afraid to mix it up, either! Consider starting with written entries for one month then switching over to digital for another month.
Ultimately, there's no right or wrong way to journal as long as it serves its intended purpose: helping you reflect on experiences, emotions, goals or anything else that comes up in life.
Experiment with both digital and paper journaling methods to determine the best fit for your self-reflection and creative expression needs.
Tips For Effective Journaling
As someone who has journaled both digitally and on paper, I understand the importance of finding the right method that works for you. Here are some tips for effective journaling:
Set aside dedicated time each day or week to journal, and stick to it.
Write down your goals and intentions for journaling to help guide your entries.
Be honest and vulnerable with yourself in your writing, allowing yourself to explore your thoughts and feelings openly.
Use prompts or writing exercises to spark inspiration when needed.
Experiment with different formats, whether it be traditional free-writing or structured prompts.
Use your journal as a tool for reflection, tracking progress towards personal growth and development goals.
Incorporate mindfulness techniques into your journaling practice to stay present in the moment.
If using a digital platform, consider adding multimedia content such as photos or voice recordings to enhance the experience.
Don't be afraid to switch up your method if you find that one isn't working for you – there's no one "right" way to journal!
Remember that the most important aspect of journaling is simply showing up and putting pen to paper (or fingers to keyboard), so don't stress about making every entry perfect.
Keeping these tips in mind can help make your journaling experience more effective, fulfilling, and enjoyable – regardless of whether you choose to go digital or stick with a physical notebook.
Combining Digital And Paper Journaling
If you're torn between the benefits of digital and paper journaling, why not have the best of both worlds by combining them? A popular method is to use a physical notebook for brainstorming, sketching, or jotting down quick notes on-the-go.
Then, transfer these notes to your digital app for further organization and tracking.
Another option is to use a hybrid notebook that has both paper pages and an accompanying app that allows you to scan and digitize your handwritten notes.
Overall, there's no right or wrong way when it comes to choosing between digital or paper journaling.
FAQs:
1. What are the benefits of digital journaling over paper journaling?
Digital journaling offers several advantages over traditional pen-and-paper methods, including greater accessibility and portability, better organization and search functionality, easy syncing across devices, and enhanced privacy and security features.
2. Are there any downsides to switching from paper to digital journaling?
Some people may find that they miss the tactile experience of writing on paper or that they prefer the process of physically flipping through pages in a physical notebook. Additionally, certain individuals may feel overwhelmed by the number of options available when it comes to digital journaling apps and platforms.
3. What factors should I consider before choosing between digital and paper journaling?
When deciding which method is right for you, it's important to think about your personal preferences around things like handwriting versus typing, privacy concerns, convenience/accessibility needs (e.g., do you want to be able to jot down notes on-the-go?), as well as your budget for purchasing an app or device if necessary.
4. Is it possible to switch between both types of journals depending on my mood or circumstance?
Absolutely! Some people prefer keeping separate notebooks for different purposes (such as using a physical notebook for daily reflections but turning to their phone/tablet when traveling), while others enjoy experimenting with different tools/techniques until they find what works best for them long-term. There's no one-size-fits-all approach – ultimately, it comes down to finding what feels most comfortable for you at any given moment or situation
Conclusion
Ultimately, the choice between digital and paper journaling comes down to personal preference and individual goals. Both methods have their advantages and disadvantages, from the convenience of digital to the sensory experience of paper.
It's important to consider your habits, needs, and intentions before choosing a journaling method. And if you can't decide, why not try both? Hybrid journaling is a popular option that combines the benefits of both analog and electronic writing.
Remember that effective journaling involves finding what works best for you – whether that's typing on a computer or writing in a notebook with a favorite pen.
I wish you the best! Fabian.
Share with your Friends: